"My name's Rochelle. I produce a news show."
―Rochelle
"Hey, kill all sons of bitches right?"
―Rochelle to Ellis, handing him his grenade launcher
Rochelle (also known as Ro) is one of the four playable Survivors in Left 4 Dead 2.
She was employed as an associate producer on a television news station in which role she was sent on assignment to Savannah (the location of the first campaign) to cover The Infection's breaking story.
Her pink T-shirt features an image of the British electronic band Depeche Mode.
Rochelle's facial features are based on Shanola Hampton and she is voiced by Rochelle Aytes.
Official Description
Rochelle "Ro"
Age: 29
Hometown: Cleveland, OH
As a low-level associate producer for a big-name news station, Rochelle's job mostly consisted of lugging cables and fetching coffee. But when the outbreak hit and staff started calling in sick, Rochelle got her break: producing a segment from Savannah about the evacuation center located there. She was still setting up the cameras when her big story became a war zone.

But that doesn't mean she's letting go of her dream job yet. Surviving a zombie apocalypse is just something else she can use her wits and drive to produce the hell out of.[1]
Relationships with other Survivors
---
WARNING: The following is conjecture and may not be considered canon.
---
Rochelle is the sensible "big sister" of the group, and almost everyone treats her with generous respect. Socially, she is also the character who gets the most congenial response from outsiders such as Francis and Whitaker the gun store owner. She is portrayed as sensible, levelheaded, and kind to everybody and as possessing a dry sense of humor that comes out, for example, in relation to the ostensible artistic and performance merits of the Midnight Riders and Jimmy Gibbs Jr.
Rochelle and Coach have a warm, friendly relationship, much like Zoey and Bill from Left 4 Dead.
Coach often calls her "girl" and "little sister." She encourages him when he says he is hurt, and often times tries to cheer him up with amusing or encouraging responses. She praises him when he comes up with good plans, such as his suggestion to use the Midnight Rider's concert to get the chopper's attention at the end of Dark Carnival. If Coach is killed, she shows remorse, stating how she will miss him.
Rochelle treats Ellis somewhat like a younger brother, just as Ellis treats Rochelle as if she were his elder sister. They joke around during the campaigns and each is sad when the other dies. She stands up for Ellis in The Passing, telling Nick to leave Ellis alone when he makes fun of Ellis for liking Zoey. She also offers Ellis some relationship advice about his crush on Zoey, telling him "You just need to be your sweet self, Ellis." The only conflict between them occurs when Ellis says something completely idiotic or at odds with Rochelle's ways of thinking; for example, on the first chapter of Swamp Fever when Ellis warns everyone about the "Blood Farmers," Rochelle asks what they are. After learning that they do not really exist but Ellis speaks of them seriously as if they do, her reaction is one of bemused frustration saying, "Sorry I asked." Sometimes when Ellis helps Rochelle up she may say, "Thanks, I just may keep you."
Rochelle is the only member of the group who does not seem to bother, or be bothered by, Nick. Despite momentary interpersonal differences, Nick and Rochelle appear to get on better together than they do with Coach and Ellis. She yells at him less during friendly fire incidents and mourns him the most when he dies, saying such things as "I'll miss you Nick. You were good to me." They share in common a realistic outlook of the zombie outbreak, which helps them identify more with each other. Rochelle will ask Nick about their odds of survival, and say the long odds "sound about right." She also sides with Nick when Ellis yells at him for killing the pilot of the rescue helicopter. There are a few small hints that there might be some sort of attraction between them. In The Passing when Nick makes comments about Ellis missing his chance with Zoey, Rochelle states that out of the two women still alive, at least one hates him, which might mean there are limits to her patience. During a discussion about getting another car, Ellis defends Nick, saying that while he thinks Francis is cool, he is not about to trade him for Nick. Rochelle then asks the others if they would like to put that to a vote. When Nick teases Rochelle about "playing hard to get," with Francis, she responds by telling Nick, "He [Francis] is better looking than you," which could be construed as indicating that Rochelle has at least entertained the idea of a romance with Nick, though nothing ever seems to come of it.
Rochelle seems to like Francis, and for the most part, they get along fine and they apparently share a hatred for "stuff"; although there is some tension between them when, for example, Rochelle insults Francis's vest. Character dialog makes it obvious that Francis is infatuated with Rochelle and she may have developed reciprocal feelings for Francis. However, whether this is genuine affection or merely sexual lust on Francis' part (e.g. his ribald comment about playing shirts and skins with the women playing skins) is open to generous inference.[2]
This relationship is carried over as Rochelle and Francis were featured during the Summer camp sale on Steam, pulling pranks on other video game characters together.
Zoey and Rochelle will often exclaim to each other how they are relieved to find another woman still alive. Generally, there seems to be no animosity between Rochelle and Zoey, and they are happy to help each other out.
Louis and Rochelle have a warm impression of each other almost instantly. Upon seeing him wounded, she immediately takes his health into consideration. She invites the trio to join them on their trip to New Orleans, which Louis kindly rejects, stating that although she seems really nice, they will be fine on their own.
She also is the most sensitive to the Left 4 Dead Survivors' situation in the wake of Bill's recent death and gives them the option of not lowering the bridge at all.
Quotes
See: Rochelle/Quotes
Notes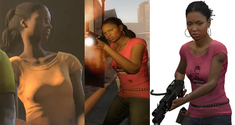 Gallery
References