"I heard they gotta cancel a concert if there's a breeze cause any town down wind'll catch on fire!"
"♪Gotta reach for the top, stay on the mountain! dun nah na na na na naa!~♪"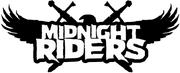 The Midnight Riders is a hard rock band in the Left 4 Dead universe. They are famous for their pyrotechnic light shows performed during their live performances. Though never encountered directly, several posters advertise them. They were scheduled to play at the Peach Pit in Whispering Oaks Amusement Park, but their performance was cancelled because of the infection. A jukebox in a café has their songs One Bad Man and Midnight Ride. Alternate versions of these are played when Tanks attack during their concert: "One Bad Tank" and "Midnight Tank." It is hinted they escaped from the horde, even after refusing to stop their tour after the Green Flu came over. Graffiti in the final safe room of the Dark Carnival campaign mentions that the Midnight Riders were evacuated out by helicopter ahead of the general population. Their songs can be played on jukeboxes found in The Parish, Swamp Fever, The Passing and The Sacrifice.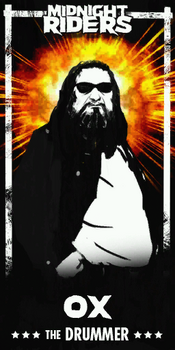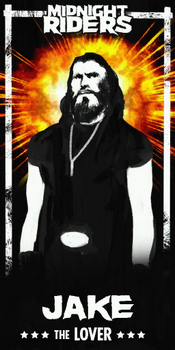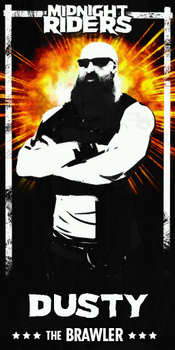 Ox "The Drummer": Drums
Smitty "The Drinker": Rhythm Guitar and Vocals
Jake "The Lover": Bass and Keyboards (1985-)
Dusty "The Brawler": Lead Guitar

Former Members
Edit
Riggs Donner: Bass (1983-1985) (Dead)
Thad Donner: Bass (2009) (single concert only, to mark the anniversary of his father, Riggs Donner's, death)
In 1983, with their chart-topping songs and the grassroots support of their loyal fanbase, four young men from Galveston, Texas became the most popular band in America. That band was Love Supply, they sucked, and on a fateful day in 1983, their opening act, the Midnight Riders, beat them so bad onstage that they became instantly famous.
The Midnight Riders decided to spend the next two years working on their first album, enjoying a little time away from the spotlight, and serving eight to ten years for aggravated assault in the federal correctional facility at Fort Worth. Luckily for Riders fans the world over, they accidentally hadn't killed any of Love Supply and, due to an overcrowding problem in the joint, all non-murderers were released in January 1985. Three months later, the result was their debut album We're Coming For You, Love Supply, after which the band Love Supply retired, and the mantle of Greatest Southern Rock Supergroup of All Time passed to them. That same year, on October 3rd, bass player Riggs Donner was tragically killed in a motorcycle accident while traveling without his helmet to his favorite local strip club, the Sugar Bares, somehow damaging all parts of his skeleton, save for his skull, and was replaced by provisional temporary band member Jake Thorne.
In 1987, the Midnight Riders were asked to participate in a children's charity album with their rock peers, but refused.
In 1989, the Riders' first ever love ballad, "This Man Loves You," written and performed on piano by provisional temporary band member Jake Thorne (who actually wrote it to his father when he died) was released as a B-side to the single "Midnight Ride" from the album Born Yesterday; it became the band's first ever number one hit song. To this day, the band refuses to play the song live.
In 1993, the Midnight Riders finally got their long-overdue recognition from the music industry, winning the Grammy for Most Pyrotechnics in a Single Concert. Dusty explains in a Guitar God magazine article that the reason the Midnight Riders did not participate in the 1987 children's charity album was that giving children charity just makes them weak.
In 1998, the Midnight Riders grudgingly agreed to participate in a Christmas album in exchange of not doing 30,000 hours of community service, and the number "All I Want for Christmas (is to Kick Your Ass)" was written, recorded and mailed in less than an hour.
The Midnight Riders are currently on the road for their No Salvation fairgrounds tour, as part of promoting the just-released Greatest Hits album, High Heels and Brushed Steel. In Waynesboro, Oklahoma, Dusty stabbed a journalist between the ribs, when he was asked why he loves cancer, but the journalist was able to recover, due to the fact that a Midnight Riders' website contest winner, Dwayne Thompson, donated his lung to him in exchange for a full Midnight Riders autographed discography. In Baton Rouge, Louisiana, the Midnight Riders replaced Jake with Riggs Donner's son, Thad Donner, to mark the 24th anniversary of Riggs Donner's death.
The latest action by the Midnight Riders as a band was to decide not to cancel their concert at Whispering Oaks, despite the Green Flu, but when Whispering Oaks was overrun, they were forced to evacuate.
Discography
Edit
According to their website, Midnight Riders have released over 23 albums. Only four albums and a single have been revealed so far, and only four of the songs have been released.
Ten Past Midnight (Unknown)Edit
We're Coming For You, Love Supply (April 1985)Edit
Born Yesterday (1989)Edit
"Midnight Ride"
"This Man Loves You"

High Heels and Brushed Steel (2009)Edit
Disc One
"3 AM (The Whiskey Song)"
"Chopper on the Road"
"On My Way to Houston"
"Stick It In Your Craw"
"All Tapped Out"
"Beer Batterin' "
"Whiskey On Bourbon Street"
"Porkbelly Blues"
"Your Face (In My Fist)"
"Ain't Got Nuthin' "
"Yankin' My Chain"
"Give Her Some Gas" (previously unreleased)
"Payday Blues" (previously unreleased)
Disc Two
"She Don't Care"
"Just Knifed Some Guy"
"Drinkin' And Drivin' You Crazy"
"You Got Me In Stitches"
"Gunnin' For Galveston"
"Texas Hustler"
"Sunup Shakedown"
"Unmarked Envelope (Stuffed With Cash)"
"Longnecks and Short Shorts"
"Get Your Friends (I'll Take Y'all On)"
"Cinderblock Blues"
"Glug Glug Thump Thump"
"Sleeping in the Yard" (previously unreleased)
"Up on Blocks" (previously unreleased)
Songs in-game
Edit
The following songs can be found in-game either on jukeboxes, the The Concert finale of Dark Carnival, or the radio at the wedding gazebo in The Riverbank in The Passing.
Fairgrounds Tour
Edit
September 1 ― Harvest, Texas
September 2 ― Black Mountain, Texas
September 3 ― Fort Worth, Texas
September 11 ― Rutherford, Oklahoma
September 17 ― Waynesboro, Oklahoma
September 18 ― Florence, Arkansas
September 21 ― Leesburg, Arkansas
September 27 ― Shreveport, Louisiana
October 3 ― Baton Rouge, Louisiana
October 7 ― Cornelia, Georgia
October 8 ― Griffin County, Georgia (Location of Whispering Oaks)
October 11 ― Rock Hill, South Carolina
October 15 ― Gulfport, Mississippi
October 18 ― Slocomb, Mississippi
October 31 ― Cleveland, Ohio
The name Midnight Riders may have been inspired by the song "Midnight Rider", a Southern rock hit by The Allman Brothers Band. Lead guitarist Dusty may be a nod to Dusty Hill, bassist/vocalist of ZZ Top with a similar long beard and sunglasses look, or possibly to pro wrestler Dusty Rhodes, who formerly went by the ring-name "The Midnight Rider".
A midnight rider is also someone who visits an amusement park late at night.
On the No Salvation Fairgrounds Tour schedules, both in the game and on the T-shirt, Gulfport is incorrectly spelled as "Gulf Port."

Also, there is not a Slocomb anywhere in Mississippi. There is a Slocomb, Alabama, however.
Of humorous note is the graffiti concerning their status―at first, tributes and mourning are made for the Riders, until someone writes that they escaped in a helicopter. The following comments declare that they are a mediocre band and have not made anything of noteworthy interest, reminiscent of some rock band fan bases.
The Midnight Riders have been featured in Rock Band Network.[1]
The Midnight Riders tour bus is seen driving by in The Passing.

01:03

Left 4 Dead 2 Midnight Riders Are Still Alive (Easter Egg)

In the song "Save Me Some Sugar," an incoherent line can be heard at 2:09 - 2:14. When this line is played backwards, the line is revealed to say "Bill is Dead." This is a reference to the death of the Left 4 Dead Survivor, Bill. This may also reference the popular "Paul is Dead" myth believed to be backmasked in many Beatles songs.
One of the lines in the song One Bad Man states "I'm a half-ton son-of-a-gun with a suitcase full of pistols and money." In The Passing DLC , there is a room in one of the ruined buildings that has an open suitcase with pistols and dollar bills in it. This is most likely a reference to the song. Coach sings "A suitcase full of pistols and money" if he walks by said suitcase.
The lyrics of "Save me some Sugar" states, "The Bus is on the road. Sweet Georgia fades away," talking about them leaving Georgia like the Left 4 Dead Survivors. "We'll soon be burning down Louisiana," is the military bombing.
When a player goes to start The Concert finale of Dark Carnival, Coach may remark (Or Nick may tell him or Ellis) that the Midnight Riders lip-sync at their live concerts.

Considering this, Coach may state he still loves the Riders at the beginning Safe Room in The Fairgrounds. But when finding out they lip-sync, he may state that he only used to like them.

In reality, the band's music was written and performed by Valve's composer, Mike Morasky, a former member of rock band Steel Pole Bath Tub. Morasky himself played guitar, keyboard and bass for the tracks, singer Greg Dale provided vocals, and percussionist Jason Roeder acted as drummer.
In Dead Rising 2: Case Zero, the Still Creek Movie Theater was meant to feature a band called the "Midnight Raiders," a likely reference to the Midnight Riders.
On the jukebox version of Midnight Ride, at the beginning, drumsticks can be heard clicked together 4 times. However, on the Concert Version, you can hear "One, two, three, four!" in place of the drumsticks.
On the Midnight Riders homepage for the "Save me some Sugar" music video contest is a demo version of the same song as well as the jukebox version [2]. It has some different lyrics and is a bit slower than the Jukebox version in the game. It can be downloaded here: [3]
In the October 22, 2010 L4D Blog, Valve asked the community if they have ever played either of the two Midnight Riders song that are available from the Rock Band Network[4]. The following week's blog revealed that 38% voted yes, prompting Valve to state that they "need to get cracking on converting the rest of the Riders' catalog".[5] This means there is a good chance that "All I Want For Christmas," "Save Me Some Sugar," and possibly even the aforementioned demo version of the latter, will appear in the Rock Band Network soon.
Francis is the first Survivor to encounter a fan of the Midnight Riders.
On the May 6, 2011 poll, Valve asked players if they would like to see a comic based on the Midnight Riders band, this could mean that they might soon do a backstory on the the Riders during the Green Flu outbreak, similar to that of the original Left 4 Dead Survivors in their comic, The Sacrifice.
In the fairgrounds, Coach is heard often talking about why he "used to like the Midnight Riders," then saying that they have, "... the best pyrotechnics," which is stated on the posters in the fairgrounds starting safe room in which the line is said.
The Riders' album "Ten Past Midnight" may be a reference to the song "2 Minutes to Midnight" by the British heavy metal band Iron Maiden.
References
Edit
Ad blocker interference detected!
Wikia is a free-to-use site that makes money from advertising. We have a modified experience for viewers using ad blockers

Wikia is not accessible if you've made further modifications. Remove the custom ad blocker rule(s) and the page will load as expected.