"Built that thing to be Zombie-Proof!"

This article is not canon. I Hate Mountains is a creation made by the community, and not by Valve.
"Unless anyone has a better plan..."

This article, I Hate Mountains, requires a properly written walkthrough.
Please check the proper layout before contributing to the walkthrough.
I Hate Mountains

Tagline
"No camping. No marshmallows. No hope."
Creator
NykO18, Moroes, and Kane
Chapters
"The Survivors crashed their bus into a utility pole in a dark forest while fleeing. They must now find their way through the spooky North American mountains. The campaign includes a dense forest, a huge mansion, an underground complex, a coast road and its lumberyard and finally, a lakeside finale."

I Hate Mountains is a Custom Campaign created for Left 4 Dead and Left 4 Dead 2 by Nicolas Grevet (NykO18), Marc Bidoul (Moroes), and Geoffroy Espinasse (Kane) (famous for creating Portal: Prelude).
This campaign takes place in a rural part of British Columbia in Canada, after the apparent crash of the armored van from Crash Course. The Survivors take many alternate paths through the woods, a mansion, a crypt, and a small harbour before finally reaching a seaplane that whisks them to safety.
Video Trailer
Edit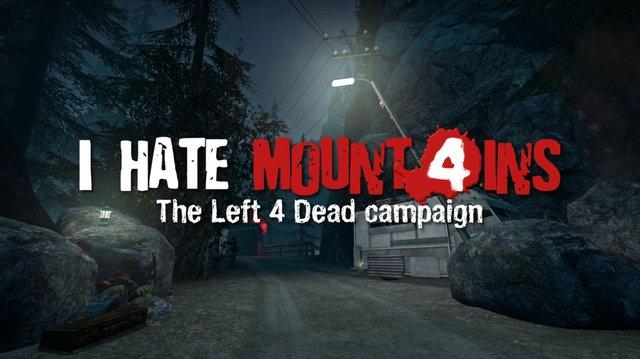 The trailer uses the Electric Worry song used in a Left 4 Dead 2 TV Spot.
Graffiti in this campaign makes a reference to Chicago Ted stating that he wasn't immune; he just hadn't been bitten yet.
The poster for this campaign can be seen in the other campaign Dead Before Dawn.
On each map are five Domo-Kun-figures hidden, 25 on all maps together. This is a signature mark of one of the mappers, NykO18, who adds Domo into all of his projects in some way.
During the unique "false alarm" scenario, News Chopper 5 appears outside the mansion and crashes yet again.
Download Links
Edit
Ad blocker interference detected!
Wikia is a free-to-use site that makes money from advertising. We have a modified experience for viewers using ad blockers

Wikia is not accessible if you've made further modifications. Remove the custom ad blocker rule(s) and the page will load as expected.