"He needed to feel huge, fit believably into the world and read well as a silhouette."
―Jeremy Bennett, Valve.
"*phew* Good thing I'm indestructible."
―Francis
Francis, is one of the four playable Survivors in Left 4 Dead. He is a tough biker with tattoos covering his arms and neck. His tattoos identify him as a member of "Hell's Legion," a name possibly inspired by the real-world Hell's Angels Motorcycle Club. In official media, he can usually be seen wielding either the Pump Shotgun or the Auto Shotgun.
Francis, along with Zoey and Louis, appears in Left 4 Dead 2 in the downloadable campaign The Passing as they meet with the Left 4 Dead 2 Survivors. Nick and Francis bicker with each other a lot due to their brash natures, although Rochelle finds herself strangely attracted to him.
Francis' facial features are portrayed by Taylor Knox and he is voiced by Vince Valenzuela.
Official Description
Francis
Age: Unknown
Hometown: Unknown
Cocky, loud, and pretty sure he's indestructible, Francis acts like the zombie apocalypse is the world's biggest bar fight. When the virus hit, everybody else stockpiled food and looked for a place to hide. Francis found a gun and had some fun. No cops, no laws, no order—if it wasn't for all the zombies, he could almost get used to life like this.[2]
Background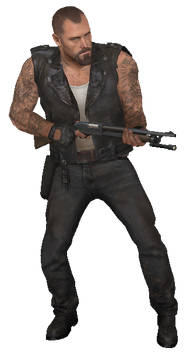 At one point, Francis was employed by the shipping company Hersch but was presumably fired after assaulting a man.
Francis attempted to steal a flat-screen television two days after first Infection. When he is caught, his claim that he is a cop gathering evidence for a crime is not taken seriously. He is next shown in a bar boasting to his friends about why he is going to jail. When one of his friends reveals to him that Pennsylvania jails do not allow conjugal visits, Francis' presumed girlfriend Sandra then says "better not waste anymore time" and grabs Francis' arm and pulls him into the bar's back room. Francis and Sandra begin kissing in the back room when she gets sick on his vest. He almost leaves, but she convinces him to stay and then promptly bites him. She is about to attack him when Francis's paranoid friend, Duke, shoots her. Realizing that this is no ordinary flu and that most people cannot be considered human anymore, Francis realizes the possibilities of the lawlessness the outbreak has brought, and has Duke and Danny lug a jukebox to the roof where he grabs a shotgun to begin picking off Infected one by one with Duke, Danny and a few other barmates.
It is unknown what had happened to his friends, but it is most probable that he either left them or they weren't immune or carriers and succumbed to the flu at one point of time before Francis had joined the group. In the Sacrifice, Francis admits to Zoey that he finds his old friends more fun to be with during the apocalypse but would not have lasted two weeks if he hadn't met the group.
Relationships with other Survivors
---
WARNING: The following is conjecture and may not be considered canon.
---
Of the four original Survivors, Francis is the most cocky and insulting. Dream sequences and dialogue in the third and fourth episodes of The Sacrifice comic provide evidence that Francis has a well-developed alpha-male self-image. Despite this, the other Survivors may sometimes look down on Francis for his stupidity at times.
Hatred of Everything
Francis is notable for often contextually exclaiming how he hates something. Why Francis hates almost everything is unknown, but it can be assumed that it has something to do with his past of being an outlaw, or perhaps just a personality quirk added for comic relief. Among the things Francis hates:
Object of hatred
Location(s)
Audio file(s)
Notes
Airplanes
Dead Air
WorldAirport0513.wav
The Army
Blood Harvest
dlc2armytruck01.wav
dlc2armytruck02.wav
He later takes back this statement claiming "I LOVE the goddamn Army!" at the end of the finale. On rare occasions, he will say "I forgive you, Army; I love you guys!"
Ayn Rand
Dead Air

WorldAirport0416.wav
Barns
Blood Harvest (cut from game)
WorldFarmHouse0420.wav
Bill's Plan
The Sacrifice
c6dlc3secondsaferoom15.wav
Birds
Crash Course
dlc2birdhate01.wav
Occasionally Zoey will respond by saying "Yeah, birds are dicks"
Boats
Death Toll
The Sacrifice
c6dlc3intro26.wav
Boat people
Death Toll (cut from game)
WorldSmallTown0510.wav
Boat lawyers
Death Toll
WorldSmallTown0511.wav
Only the subtitle says "boat lawyers", Francis will not pronounce the "boat" in-game.
Bridges
The Passing
dlc1_c6m3_finalechat16.wav
Canada
Crash Course
dlc2canadahate01.wav
dlc2canadahate02.wav
Caca
Death Toll (cut from game)
WorldSmallTown0207.wav
Car alarms
Community lines
dlc1_communityl4d105.wav
Churches
Death Toll (cut from game)
WorldSmallTown0206.wav
Cold
Community lines
dlc1_communityl4d104.wav
Cops
No Mercy
WorldHospital0404.wav
Despite his hatred, Francis is not above pretending to be a cop, having done so multiple times throughout the game and comic.
Different
Promo of Steam transitioning to Macintosh computers
Not heard in-game
A reference to Mac's "Think Different" slogan.
Doctors
No Mercy
WorldHospital0404.wav
Elevators
No Mercy
WorldHospital0409.wav
Electric fences
Blood Harvest (cut from game)
WorldFarmHouse0321.wav
Ellis' hat
The Passing
dlc1_c6m3_l4d1finalebridgerun06.wav
Falling
The Sacrifice comic
Not heard in-game
Fish
The Sacrifice
c6dlc3secondsaferoom20.wav
He mentions that he only hates live fish and says he eats them just to prove to the fish how much he hates them.
Flying
Crash Course
dlc2intro07.wav
Generators in Crash Course finale and The Sacrifice finale
Crash Course
The Sacrifice
dlc2m2finalebuttonpressgen302.wav
c6dlc3prestartlastgen01.wav
Goodbyes
The Passing
dlc1_c6m3_l4d1finalecinematic13.wav
Gravel hill in The Barge
The Sacrifice
c6dlc3gravelhill07.wav
Greece
Dead Air
worldairport0416.wav
Only heard in the German version to replace Ayn Rand.
Helicopters
No Mercy
Crash Course
WorldHospital0501.wav
dlc2intro19.wav
dlc2intro32.wav
Hospitals
No Mercy
WorldHospital0404.wav
WorldHospital0408.wav
Hotels
Dead Air (cut from game)
WorldAirport0230.wav
Islands
The Sacrifice
c6dlc3intro23.wav
c6dlc3secondsaferoom28.wav
He claims to have Insulaphobia, or the fear/hatred of islands.
Jumping
Dead Air (cut from game)
WorldAirport0232.wav
Latest issues
Crash Course
dlc2magazinerack01.wav
Response to Zoey's sarcastic comment "Hey Francis, they've got the latest issue of Hating Everything Magazine here."
Lawyers
No Mercy
Death Toll
WorldHospital0404.wav"
WorldSmallTown0511.wav
WorldSmallTown0512.wav
Louis's good feelings
The Sacrifice
c6dlc3secondsaferoom02.wav
Malls
Dead Before Dawn
francis_ihatemalls_dbd.wav
Mondays
Crash Course
dlc2bulletinboard01.wav
The only exception to this is if it's lasagna Monday. This is a nod to the comic strip, Garfield.
Mountains
I Hate Mountains
dlc1_communityl4d107.wav
Parades[19]
Crash Course
dlc2intro29.wav
Photos
Steam Store (Promo)
Not heard in-game
He can be seen in the background of the "Steam Summer Camp Sale" holding a small piece of paper with "I hate photos" on it.
Prisons
Last Drop custom Survival Map
Audio source needed
In The Sacrifice comic, Francis was arrested for stealing two days after the first infection and was scheduled for prison, when the outbreak changed everything.
Riverside
Crash Course
dlc2riverside02.wav
Francis thinks Riverside is in Canada, which is why he hates it. [20][21]
Sewers
No Mercy
WorldHospital0308.wav
Small towns
Death Toll
WorldSmallTown0311.wav
Snow
The Passing
dlc1_communityl4d102.wav
dlc1_communityl4d103.wav
Stairs
No Mercy
WorldHospital0410.wav
If Bill is present, he may respond "Damn straight".
Steam pipes
Crash Course
dlc2steam01.wav
He only hates the pipes, not the steam itself[22][23]
Subways
No Mercy
WorldHospital0201.wav
Suicide Missions
The Sacrifice
c6dlc3jumpingoffbridge03.wav
Tanks
The Passing
dlc1_killfinaltank01.wav
dlc1_killfinaltank02.wav
dlc1_killfinaltank03.wav
The South
The Passing
dlc1_l4d1tank03.wav
Trains
Location source needed
Audio source needed
Train yards
Death Toll
WorldSmallTown0204.wav
Tunnels
Blood Harvest
WorldFarmHouse0212.wav
Turnpikes
Audio source needed
Vampires
Crash Course
dlc2canadahate02.wav
Vans
Death Toll
Dead Air

WorldAirport0425.wav
Vomit (Boomer bile)
Location source needed
Audio source needed
Walking
Crash Course
dlc2intro22.wav
dlc2m2finaletruckend01.wav
Large bodies of water
Death Toll
WorldSmallTown0509.wav
In The Sacrifice he quietly admits that he can't swim, possibly being the reason he hates water.
Whispering
Location source needed
Audio source needed
Woods
Blood Harvest
WorldFarmHouse0112.wav
Zoey sacrificing herself during the Port Finale
The Sacrifice
c6dlc3zoeydies04.wav
Zombies
The Sacrifice comic
Not heard in-game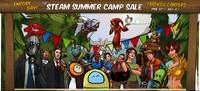 When asked by Bill if there's anything he doesn't hate, he replies "You know what I don't hate? I don't hate vests."[24] In Crash Course, Francis states that he loves lasagna, and when Zoey walks past the steam pipe and sarcastically moans, "I love steam," he mutters, "Yeah.... Steam's all right, I guess."[22]This is a reference to Valve's gaming software, also called Steam. In the same level, the crash leaves him so dazed that he blurts out "I love helicopters!"[25]raising genuine concern for his mental health before he snaps out of it. From the tone of his voice, his statement that he loves helicopters may also be sarcasm that the other Survivors don't pick up on. During The Passing, Francis states, "I love that car!"[26] referring to Jimmy Gibbs Jr.'s stock car. Despite the fact that he hates cops, he often claims he is one when attempting to call a Rescue Vehicle, the Church Guy (who said he didn't sound like one), or when talking to the Left 4 Dead 2 Survivors, where he claims that he, Zoey and Louis are all cops (Nick, however, sees through this ruse), even yelling to the new Survivors who are escaping from the Port that they were cops. It is also pretty obvious that he does not hate Rochelle.
Quotes and Captions
See: Francis/Quotes and Captions
Behind the Scenes

Francis' original beta design was quite different from his current appearance. Originally, Francis had slightly long, black hair with a beard, blue jeans, and appeared overweight. His tattoos, and clothing style remained about the same, however, except for the vest which appeared to be a denim one instead of his current leather one. The in-game Developer Commentary states that Francis is 6 foot 5 inches tall.
Notes
Gallery
References
Ad blocker interference detected!
Wikia is a free-to-use site that makes money from advertising. We have a modified experience for viewers using ad blockers

Wikia is not accessible if you've made further modifications. Remove the custom ad blocker rule(s) and the page will load as expected.