AK-47
Talk

11
398pages on
this wiki
AK-47

Hud icon
 
Weapon Type
Assault
Main weapon
Weapon Tier
2
Capacity
40
Carry Capacity
360
Damage per Shot
58
Rate of Fire
461.5/minute
Damage per Second
446
Damage per Magazine
2320
Total Damage
23200
The AK-47 is an Assault Rifle in Left 4 Dead 2. It trades off the versatility of the Assault Rifle in return for enhanced stopping power, making it an excellent weapon for handling hordes of Common Infected and Tanks. On the downside, relative to the Assault Rifle, it has a slower fire rate, a smaller magazine capacity and, most noticeably, lower accuracy.
Official Description
Edit
What this Soviet-made assault rifle lacks in accuracy, it makes up for in firepower. You can squeeze off these higher caliber rounds in single shots for ammo conservation, or room-clear with fully automatic fire.[1]
Pros and Cons
Edit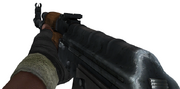 References
Edit
External Links
Edit
AK-47 in action: &
Left 4 Dead

Tier 1
Pump Shotgun / Submachine Gun
Tier 2
Assault Rifle / Auto Shotgun / Hunting Rifle
Sidearms
M1911 Pistol
Left 4 Dead 2

Tier 1
Chrome Shotgun / Pump Shotgun /
Silenced Submachine Gun / Submachine Gun
Tier 2
AK-47 / Combat Rifle / M-16 Assault Rifle /
Combat Shotgun / Tactical Shotgun /
Sniper Rifle / Hunting Rifle
Sidearms
P220 Pistol / Magnum
Special Tier
Grenade Launcher / M60

Other Weapons

Melee Weapons
Axe / Baseball Bat / Chainsaw /
Cricket Bat / Crowbar / Golf Club /
Guitar / Frying Pan / Katana /
Machete / Nightstick
Custom Melee Weapons
Foam Finger
Grenades
Molotov Cocktail / Pipe Bomb / Bile Bomb
Upgrades
Incendiary Ammunition / Explosive Ammunition /
Laser Sight
Other Weapons
Minigun / Heavy Machine Gun /
Gas Can / Oxygen Tank / Propane Tank /
Fireworks / Explosive Barrel / Cola /
Gnome Chompski
International Weapons
Combat Knife / H&K MP5 / SIG SG552 / Steyr Scout / Accuracy International AWSM